Trallwyn Cottages Pembrokeshire National Park
Traditional Style MongolianYurt
in beautiful natural setting
a haven of peace...
Next Availability
Trallwyn Yurt slps 2/4 - 2nd-8th June £180/230
For more availabilty please scroll down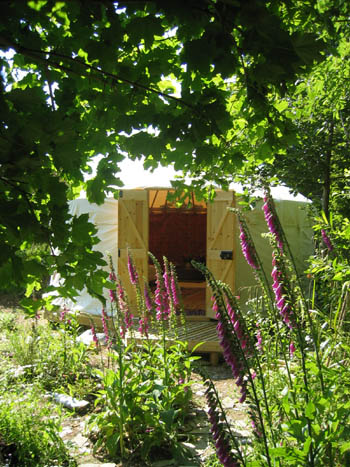 More availabilty scroll down
Trallwyn Cottages now offer this 14 foot Yurt...simply furnished...but with a typical Trallwyn flavour...this is camping in style! The kitchen and bathroom facilities are separate...and close by... Ideal for a romantic retreat for 2...or for a single person...( It is possible to sleep up to 4 people but for more than 2 ring and discuss with Anna...)
Click here for Prices and Availablity
Call Anna 01994 419278 or E.Mail Anna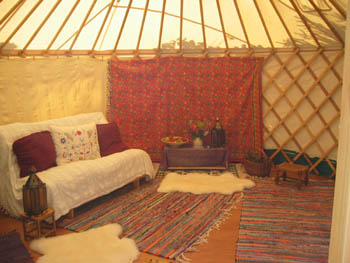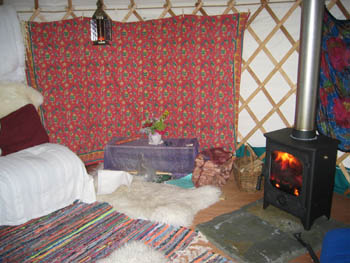 Simply furnished interior...
Facilities
There is a double futon and two singles for seating and sleeping, a woodstove for cooler days and evenings...many rugs and sheepskins...and many lanterns...which burn night lights....outside, just round the bend in the path is a small shed with a simple kitchen area...a fridge and 2 gas rings...with pots and pans and cooking equipment, crockery and cutlery etc..and a an outdoor semi covered sink and drainer + shower facilities... there is electricity in the yurt kitchen area...so you can charge mobile phones etc. There is a compost loo which means that guests are self sufficient. It is seperate from the kitchen + shower. For anyone unsure about the compost loo there is an ordinary flush toilet too but that is situated within the Pottery building nearby...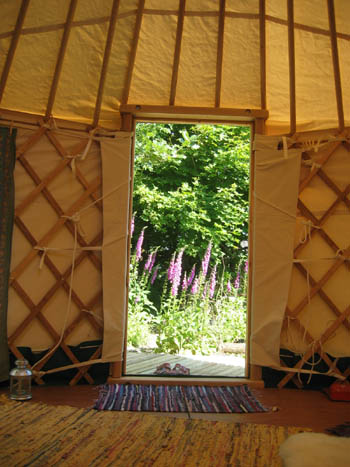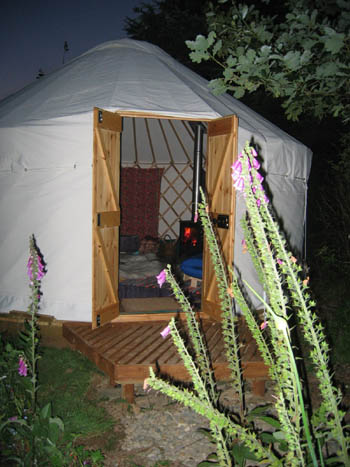 View from your door...
Click here for detailed Prices and Availablity 2013
For Phone enquiries call Anna 01994 419278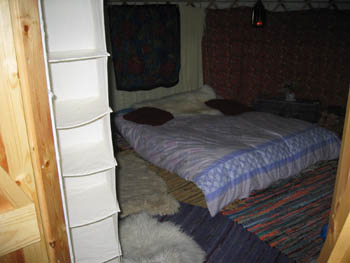 Futons for seating and beds
Trallwyn Yurt Availability
If you would like different dates to those below - just ask Anna -we try to be as flexible as possible...
June Availability

2nd-8th June £180

8th-15th June £220

15th-22nd June £230

22nd-29th June £240

Summer Holiday Availability

3rd-10th Aug £350

10th-17th Aug £350

17th-23rd Aug £320

23rd-26th Aug £270 or £370pw

26th Aug - 1st Sept £290

July Availability

29th June-5th July £240

7th-13th July £290

18th-27th July 3/7/9days £245/330/410

27th July-3rd Aug £350

September Availability

8th-14th Sept £220 or 3 days £170

14th-21st Sept £230 or 3 days £170

21st-28th £220 or 3 days £165

28th Sept-5th Oct £200 or 3 days £150
Click here for detailed Prices and Availablity 2013/2014
Click here for Trallwyn Cottages Website
Short Breaks in Trallwyn Yurt from £120 for 2 nights...
Summer Holiday price in Trallwyn Yurt £350pw for 2 people...
Prices quoted are for 2 people...
(£25 per person pw for each additional person staying in the Yurt, over and above 2 people + £15 per person for a short break ~ under two year olds free)
LOGS - The first baskets of logs are free and the fire is ready to light...After this we charge £7 per wheelbarrow of logs...
About our yurt
This beautifully constructed yurt is made from ash and oak... with an outer cover of canvas...There is a wooden platform which keeps it above the ground...and a pair of double wooden pine doors...This is the most robust design of traditional ger...with 46 ash roof poles...the crown is a beautiful wheel of oak...and the walls are an ash trellis...The wood for the yurt comes from a wood close to Glastonbury...and was made by Paul King of Woodland Yurts Somerset...the craftmanship is superb. All wood is treated with Danish oil including the wood floor...
Call Anna to book - 01994 419278
To join our monthly Newsletter and receive details late availability + special offers Click here
Farmhouse,
Trallwyn Cottage for 3,
Pottery,
Local Photos
,
Booking Conditions,
Booking Forms,
Prices,
Links to other sites
E.Mail
Return to Anna's Home Page.