Trallwyn Cottages Pembrokeshire National Park
Traditional Style MongolianYurt
in beautiful natural setting
a haven of peace...
~ Next Yurt Availability 2023 ~
NEXT AVAILABLE
September 25th October 10th for 3 nights 2/4 people £180/340
7 nights 2/4 people £320/380
We are taking mainly weekly bookings during the school Holidays because of Covid with the exception for Bank Holiday Weekends
For the rest of the season we try to be flexible where we can.
For more dates and availability please scroll down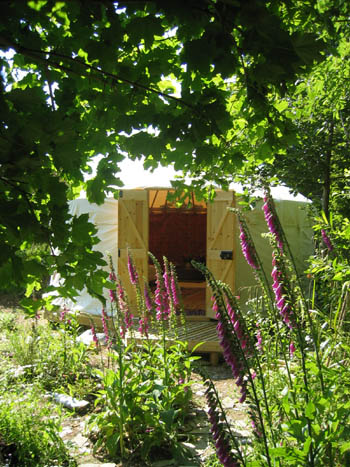 Trallwyn Cottages also offer this 14 foot Yurt...simply furnished...but with a typical Trallwyn flavour...this is camping in style! The kitchen and bathroom facilities are separate...and close by... Ideal for a romantic retreat for 2...or for a single person...Please note prices quoted are for 2 people staying. ( It is possible to sleep up to 4 people but for more than 2 ring or email and discuss with Anna...Please note that it is easy to seat 4 in the Yurt...but if 3 futons are put out on the floor for beds it is a bit like a jigsaw and the beds take up most of the floor space)
Click here for Prices and Availablity
Call Anna 01994 419278 or E.Mail Anna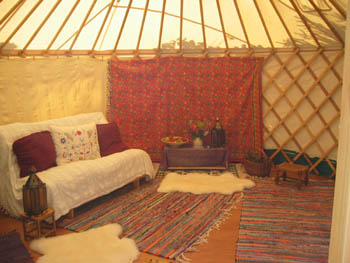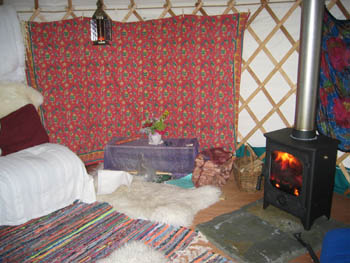 Simply furnished interior...
Facilities
There is a double futon and two singles for seating and sleeping, a woodstove for cooler days and evenings...many rugs and sheepskins...and many lanterns...which burn night lights....outside, just round the bend in the path is a small shed with a simple kitchen area...a fridge and 2 gas rings...with pots and pans and cooking equipment, crockery and cutlery etc..and a an outdoor semi covered sink and drainer + shower facilities... there is electricity in the yurt kitchen area...so you can charge mobile phones etc...but there is no electricity in the yurt itself. There is a compost loo which means that guests are self sufficient. It is seperate from the kitchen + shower. For anyone unsure about the compost loo there is an ordinary flush toilet too but that is situated within the Shower room opposite the caravan...
Extra sleeping space in a beautiful room with a view in the larch trees just behind the yurt from from £30-35 a night or from £210pw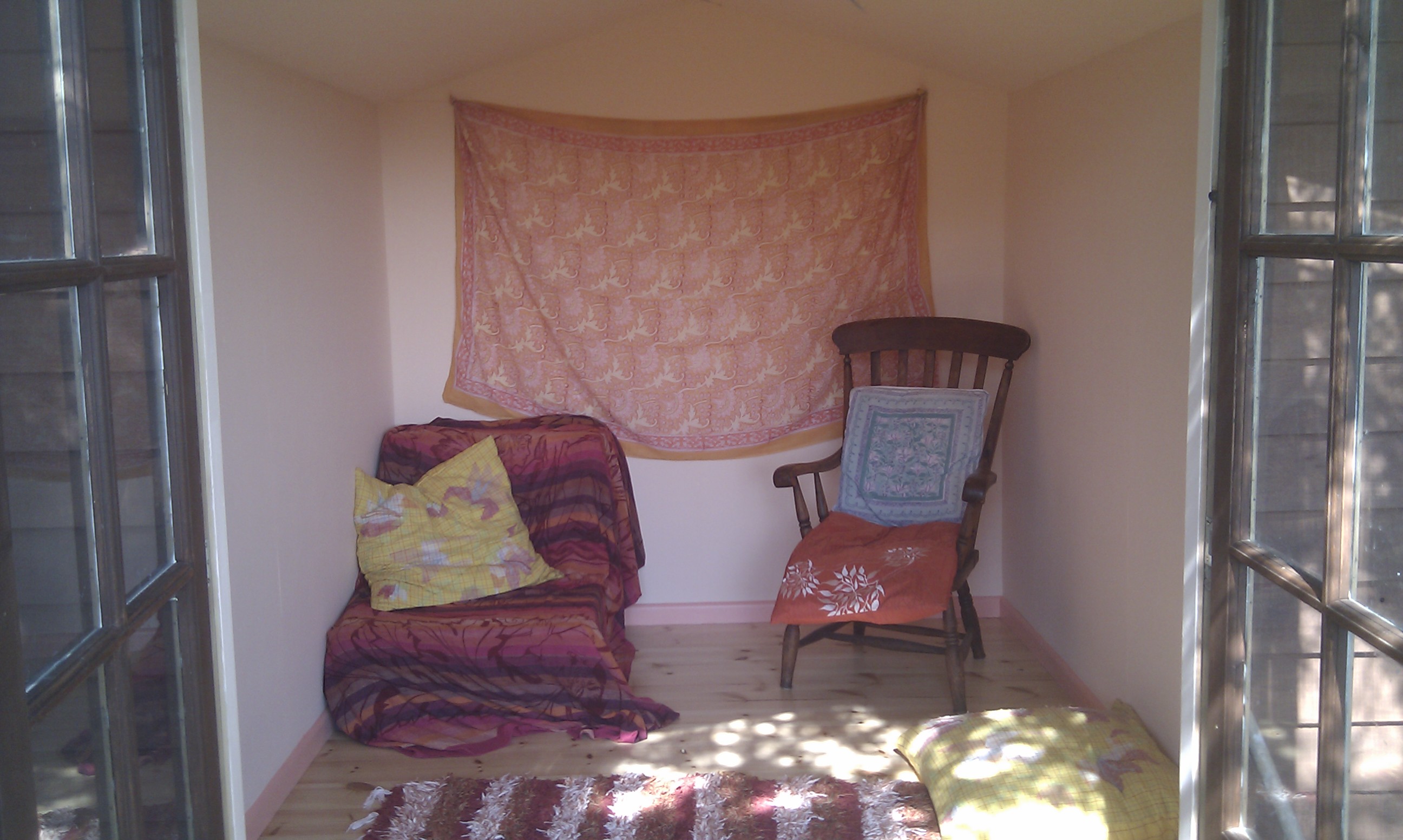 Click here to see Room with view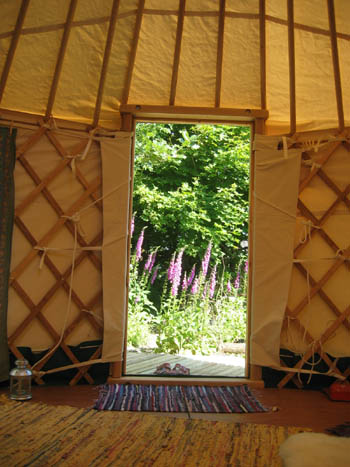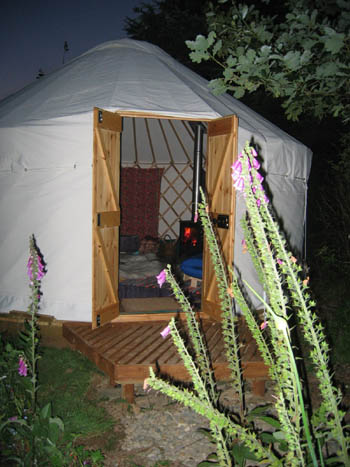 View from your door...
Click here for detailed Prices and Availablity 2021
For Phone enquiries call Anna 01994 419278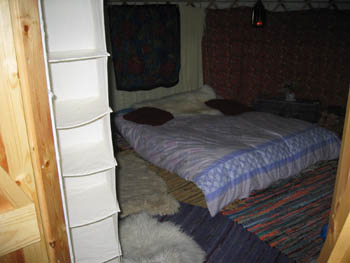 Futons for seating and beds
Trallwyn Yurt Availability
If you would like different dates to those below - just ask Anna -we try to be as flexible as possible...
Should the Yurt be booked for the dates you need we have Trallwyn Bach + Trallwyn Cottage + The Bell tent which are great Places for 2-3 people to to stay...as well as a larger cottage for 5 people...
Bell tent Prices 2023

N/A

Prices above are for 2 people sharing the Bell tent. Please add £10 a night for extra people staying for a short break or £50pw

Yurt Availability + Prices - 2023

25th Sept-10th Oct 3 nights 2/4 people £220/270

7 nights in Sept 2/4 people £320/380
Trallwyn Bell Tent August
The Bell tent is simply furnished with airbeds and foam seats beds and cushions and rugs. Outside there is a BBQ...ideal for barbecues and simple one or two pot meals...and there is also a firepit for your sole use...the toilet and shower facilities are in the Shower room in the field. You can bring a Cool Box + there is access to a small fridge for renewing ice blocks + also a shelf in a fridge for your use. There is also an electric kettle and a microwave in the Shower room. You can also use the Communal firepit for cooking on if you bring a few old pots to use on the fire. Prices are for 2 people sharing. It is possible to sleep four people or at a push 5 people...Add £10 per person per night or £50pw
Click here for detailed Prices and Availablity
Click here for Trallwyn Cottages Website
LOGS - The first baskets of logs are included in the price and the fire is ready to light...After this you can buy logs locally...
(We can supply limited electrcity to the Yurt and do so at the beginning and end of the season when you may choose to have a small amount of electric heating incase the fire has gone out overnight...please request at other times of year. The electrcity in the kitchen by the Yurt is on a £1 coin meter at cost price. The water heater is electric plus the fridge and toaster + there is a halogen heater should you need it +of course you can plug in mobile phones etc)
About our yurt
This beautifully constructed yurt is made from ash and oak... with an outer cover of canvas...There is a wooden platform which keeps it above the ground...and a pair of double wooden pine doors...This is the most robust design of traditional ger...with 46 ash roof poles...the crown is a beautiful wheel of oak...and the walls are an ash trellis...The wood for the yurt comes from a wood close to Glastonbury...and was made by Paul King of Woodland Yurts Somerset...the craftmanship is superb. All wood is treated with Danish oil including the wood floor...
Call Anna to book - 01994 419278
To join our monthly Newsletter and receive details late availability + special offers Click here
Non Smoking.We have a non smoking policy within the cottage buildings. If you wish to smoke please do so outside.
Extra info: Logs- the first basket of logs - are included in the price - gas is incuded in the price - electricity is on a £1 coin meters at cost price. Linen - is normally provided but due to Coronavirous we are asking guests to either bring sleeping bags or to bring linen please(we do ask guest to bring their own towels please)
Noise levels: People choose to come here for a peaceful holiday away from the towns and cities and away from noisy and partying neighbours...so please be considerate of everyone staying here. Having said that if you come to stay during the school holidays you will hear the sound of children playing...we have many families who come back year after year...But please don't be the noisy neighbour here!
No electric music or music from laptops tv's etc with doors and windows open please... and please keep the noise level low so as not to disturb your neighbours.
Firepit: One of the joys of being here is having a fire as the sun sets beyond the hills...The firepit on the moor is communal -we do ask everyone to gather their own wood please...ask Anna for advice on where to go wooding...we welcome singing and acoustic music...however please be sensitive to other people staying here...we ask everyone to quieten after 10.30pm please... If walking back past other cottages please do so quietly.
Farmhouse,
Trallwyn Cottage for 3,
Pottery,
Local Photos
,
Booking Conditions,
Booking Forms,
Prices,
Links to other sites
E.Mail
Return to Anna's Home Page.