SELECTION OF PHOTOS
Walking out from Trallwyn Cottages
Picture Gallery of the Gardens and Play area click on links below:
Walks Around the Bluestone Country
Gors Fawr ... Only five minutes walk from Trallwyn Cottages a small local stone-circle ... dating back to the New stone-age (or Neolithic) period...about 3500 BC. The sun, moon and stars, observed with the help of stone rings and rows, make a natural calendar; this part of North Pembrokeshire seems to have been a major observatory some 5000 years ago.
Summer solstice... The two outlying stones to Gors Fawr line up perfectly with the sunrise on the 21st June. These stones are larger than those of the circle.The outer of the two stones is a magnetic stone to which a compass responds significantly (*this magnetic quality can also be found on the stones of Carn Ingli and Carn Meini).This stone is also called the 'dreaming seat' or 'dreaming stone' as its shape was such that one could sit on the stone, and rest ones head or heart against the most magnetic part of the rock.
Carn Meini - and the Stonehenge connection...Carn Meini literally ...'place of stones in a pile', also referred to as 'the Dragons Back'..... a rocky outcrop of unique spotted dolerite, quarried many thousands of years ago and transported to Salisbury Plain for the Stonehenge circle. The tall outer 'Trilithon' stones are of local Wiltshire stone, it is the smaller, inner ring of Stonehenge which is made from the Pembrokeshire Bluestones. Their journey, their story and their power have a fascination for many people. Stonehenge is 165 miles to the South of Carn Meini and the stones' transport must be one of the great epics of history. The pre-historic track 'the Golden Way' passes nearby.
Carn Ingli... means 'Hill of the Angels', it was named so because a sixth century holy man named Saint Brynach experienced many visions and 'spoke with the angels' there.
Tycannol woods...a magical place indeed, these ancient scrub oaks, mosses and Lichen are now a protected area. In the heart of Tycannol woods a tiny cave can be found, and it is here that Saint Brynach spent much time.
Foel Drygarn and Carn Alw...Two examples of Iron age hill forts...big forts have little forts! One of the best examples is Foel Drygarn (Bare hill with three burials). It has two rings of stonework crowning it's top, two great banks to discourage intruder's. Inside are no fewer than 220 hut circles, in which lived a large Celtic population from about 300 BC. The Celts worshipped the horse which can be found all over Iron Age life in legend hillside and coins.
Carn Alw... a small fierce fortress with one of the best defences in Britain...but the biggest mystery is why Carn Alw is so heavily defended, yet so tiny that only about 20 people could have lived there.
Pentre Ifan... An excellent example of a Cromlech , the stony centres of what were once great earthen mounds, a sacred place set aside, away from the village area, family graves in which our New Stone Age ancestors buried their dead. This part of Pembrokeshire is well endowed with Cromlech's and Dolmens.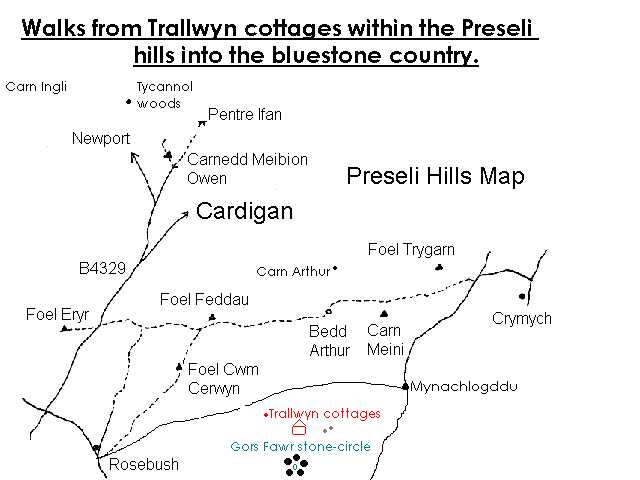 Back to top of page
Farmhouse,
Cowshed,
Mountain View Cottage for 3,
Pottery,
Booking Conditions,
Booking Forms,
Prices,
Links to other sites
E.Mail
Back to Anna's Home Page