ST DAVID'S, ST NONS AND ST DAVIDS HEAD
ST NONS
This area is rich in Christian and pre Christian sites. This overlap of cultures and historical epochs is described by David James when he writes:
Close to St. Non's Well, about 100 yds distant, is the ancient ruined chapel built in the 6th century. It is actually constructed within a prehistoric stone circle, a perfect example of the continuity and convergence of beliefs. Yet in some ways this is hardly surprising as the Scots-Gaelic for 'going to church' is still, when translated, going to the stones'.
As well as the cathedral and St Nons there is also St Davids Head where there are many signs of ancient cultures. Also on a purely scenic level this area is outstandingly beautiful with dramatic coastline and sea views.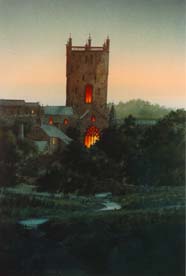 ST DAVIDS CATHEDRAL
Revered as one of the major places of pilgrimage in the Western world for over 1200 years, St Davids cathedral is situated in a sheltered valley close to the south-west tip of the Pembrokeshire coast in South Wales. To see it for the first time is for many a wonder, standing as it does against a backdrop of open fields and countryside in such a rural setting. The original monastery of Menevia, founded by St. David himself in the 6th century, has long disappeared. It was pillaged several times by Viking raiders in its history.The present cathedral was begun circa 1180 A.D., with additions over the centuries. St. David was born close by, allegedly at the spot where St Non's well now stands. He is known to have lived the life of a very ascetic Celtic monk, and encouraged his followers to do likewise. He was known as 'the waterman', some say because of his sparse food intake, but this could easily refer to his frequent missionary travels by boat, which included journeys to Brittany and Ireland. He was killed by Viking raiders near the end of the 6th century, the exact date is not known. lnterestingly his death was seen by some as retribution for eating meat, as vegetarianism was one of the traditions of the Celtic priesthood, and he was the first bishop to break this rule. The earliest reference to St. David is in an 8th century book written at Tallaght,ln Ireland, which reads that they 'kept the feast day of David of Cille Muni', (the cell or church of Menevia), on March 1st. Pope Calixtus 11, (1119-24), canonised St. David, and declared that Two pilgrimages to Menevia were equal to one pilgrimage to Rome', thus ensuring the Saint's popularity with medieval pilgrims. The shrine of the Saint remains in the cathedral to this day, in the beautiful and peaceful Trinity Chapel, the focal point for the Celtic pilgrim. Today a pilgrimage to St. Davids is a truly exhilarating experience. The area has a very ancient "feel" to it, with 6th century St.Non's chapel (within a prehistoric stone circle), just two miles distant. The small coves and bays nearby were the landing places of the early pilgrims from Ireland, and also those from Brittany and further afield. Visiting the cathedral at a quiet time of the day there is a very strong sense of 'the old', and it is easy to imagine the early and more basic structure of St.David's monastery of Menevia being here prior to the present building. The carved wooden suspended ceiling is the finest of its kind in existence, and the painted wooden ceiling and vaulting beneath the tower is truly magnificent.The picture below is taken looking directly upwards at this wonderful ceiling.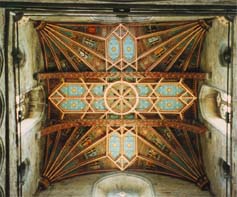 Almost everything about this Celtic cathedral is unique, and it is hardly surprising that some people have described it as "the eighth wonder of the world". The shrine of St.David, behind the great altar, is a fine place to meditate, and add ones appreciation for the beauty and inspiration of this place, along with the thousands of pilgrims who have been here over the centuries. There are some fine ancient Celtic cross slabs set into the altar of the Trinity Chapel, and in a side chapel to the east is another fine 9-1Oth century Celtic slab cross set into the wall. This is called 'The stone of the sons of Bishop Abraham' (see sketch on the previous page), and close by is another fragment of early Celtic knotwork, reminders of the original monastery of Menevia. To conclude, St.Davids must surely be one of the main focal points of our Celtic Heritage, and certainly, once visited never forgotten.
David James. Editor of Celtic Connections.
An excellent book dedicated solely to St.Davids is by Wyn Evans and Roger Worsley. "St.Davids Cathedral 1181-1981." This is a profusely illustrated hardback, available from 'Yr Oriel Fach ', St.Davids, Pembrokeshire, S. Wales.
ST NONS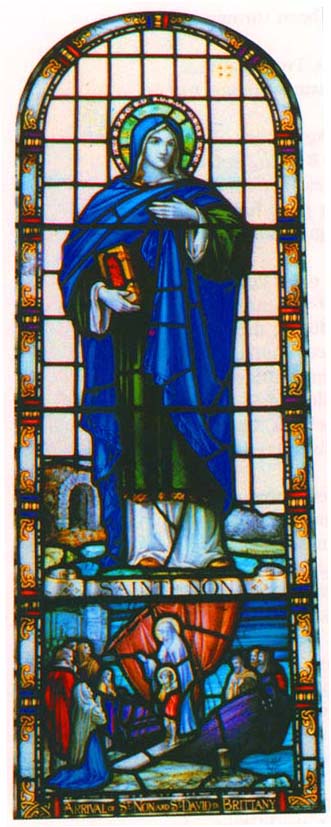 Photograph of Stained Glass Window in St Nons Chapel
ST. NON'S WELL
St. Non's well, situated on the edge of the Pembrokeshire coast two miles West of St. David's cathedral, is one of the finest examples of a Celtic healing well. The whole location is in essence Celtic, and for the modern-day pilgrim is a wonderful place to visit. The well has been used for healing purposes at least since the time of St. Non, who was born in the early 6th century, and probably for a considerable time before that. St. Non was the mother St. David, the Patron Saint of Wales, (d. 589 A.D.) who was reputed to have been born close to the well. He was the founder of the original St. David's church and of Menevia in the late 6th century , on the site of what is now St. David's cathedral. Both St. Non and St. David traveled extensively including visits to Ireland and Brittany. Holy wells were an integral part of the belief-system of the Celts. Many have been found to contain quartz crystals, white quartz pebbles, and other offerings in them, as well as Roman coins, indicating that their healing powers were also accepted by outsiders. The Celts, like any other early civilization required the basics of available food and water around which to build their early settlements. Water was revered as a gift from Mother Earth, and the very pure water of wells and springs was considered especially sacred.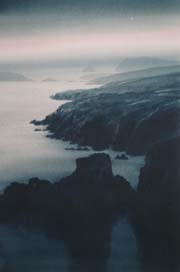 Coastline around St Nons
Close to St. Non's Well, about 100 yds distant, is the ancient ruined chapel built in the 6th century. It is actually constructed within a prehistoric stone circle, a perfect example of the continuity and convergence of beliefs. Yet in some ways this is hardly surprising as the Scots-Gaelic for 'going to church' is still, when translated, going to the stones'. The only carving within the ruined chapel is a very fine example an early slab -cross, possibly earlier than the chapel itself. Very similar basic cross-within-circle designs are found in all other Celtic countries. Healing wells are very much 'alive' today, and St.Non's well is still often used for its curative properties, as are many Ancient wells in other Celtic countries. The object of writing about them is not to encourage people to visit them like tourists, but that they should be approached in a spirit of pilgrimage and revered as sacred places. Many people have elaborate theories as to how the water is imbued with healing properties, but the fact remains that whatever a person's beliefs, the water from Holy wells has a beneficial effect on the human body. A number of clergymen today are aware of this, and hold annual healing services if there is a Holy well within their parish. For those interested in the contemporary scientific field, all healing wells tested have been found to contain a far higher percentage of hydrogen peroxide than normal water. Hydrogen peroxide has recently been successfully used in the treatment of certain cases of cancer, leukemia,aids, as well as many other lesser ailments.
(Issue 1 Celtic Connections)
*Celtic Pembrokeshire Home Page
*Gors Fawr Stone Circle and the Presely Hills*Pentre Ifan,Tycanol, Nevern and Carningli
*Some places of especial scenic beauty. *Credits and Links to other sites
* Accommodation in Celtic Pembrokeshire