Little pieces of history...
from Trallwyn Cottages... Mynachlogddu...
Preseli Hills...Pembrokeshire...Wales....
Ever since moving to Trallwyn in 1989... I have felt I would like to know more about the past... of the years gone by...and love to hear tales of the place that is now my home ...and that I love so much...

Opposite Jack and Margaret Llewellyn who lived at Trallwyn running it a as small holding with cows,ducks and chickens... As far as I know Jack was the bailiff. Jack and Margaret had no children of ther own but many of their relatives would come and stay for their holidays.

Every so often I meet someone who says...'many years ago I used to come here for my holidays' Often they only lived in a close village...but share a few memories of the past...

Jack Llewellyn born 1903 and his wife Margaret born in 1900

In Lyn's case his grandfather lived in Tonypandy, Rhonda, +.his family were miners and they used to come for miners fortnight...the first 2 weeks in August...to visit family and have their holidays...sometimes he came with his brother Roy...

Also in this photo is Margaret's mother Elizabeth Griffiths Born in 1875 and sister to Tom Edwards.

It was due to Lyn's search for 'Trallwyn' where he used to come on his holidays as a youngster and also for his search for the family tree as in what relation was Margaret to his own grandfather that enabled me to start my journey into the past.

At the end of May 2014 Lyn walked up my track..and was delighted to re-discover Trallwyn...he shared what he could remember which I found fascinating...and I felt once he also gave me some photos that I could begin!

This photo was taken on the moor just outside Trallwyn
Jack Llewellyn and the famous sheepdog Fly
In these parts 'Fly' was famous for winning sheep dog trials and Jack won many a competition with him...the photo on left is Jack with Fly, and on right Margaret with sheepdogs....

Lyn recalls the long 4-5 hour journey travelling form Tonypandy with his grandfather changing at many stations before finally arriving at Clynderwen where Jack would collect them with his pony and trap...to bring them back down the narrow lanes...to Trallwyn...

The house had a sleeping loft...a parlour mostly unused kept for special occasions and a living room with inglenook and metal rod over with cooking pot over...and Margaret used to reach up and get a ham down to make sandwiches...she used to churn the butter in an outhouse...the milk was kept in a cool shed by the moor and the cows were grazing on the moor which is something you don't see today...

There was a pond on the moor with ducks on it...and also a pistyll - water spout where the Spring water was piped to on the moor...and where you could go and get washed...

Roland Francis was a neighbour and friend of Jack's he had sheep on the common and Roland was still here when I arrived...he was a real character! He had a very strong accent and in truth I understood only half of what he said...but I really liked him...he was a great neighbour...he used to give me a fleece from his sheep as in those days I did spinning and knitting and I would give him some pottery...or on one occasion I knitted him a waistcoat spun from his own sheeps wool...He would often give the children a £1 coin for sweets...
On the left Elizabeth Griffiths who was Margaret's mother and also mother of Arthur Griffiths, Lyn recalls visiting Arthur and Muriel and their son Dyfrig still lives here in Mynachlogddu in a bungalow not too far from the original house...with his wife Veronica...

Jack's mother was Anne Llewellyn born in 1872 and his grandmother was Sarah Llewellyn born in 1834...

On the right are Tom and Elizabeth Edwards also related Tom was Elizabeth's brother and they lived in Rosebush...he had a son called Johny Edwards... Margeret was Toms niece.

A few recollections: Jack was famous amongst the youngsters for his ability to spit from a great distance into the fire and never miss...he did this from a long way back in his chair!

Some said he was a gruff old man with a great sense of humour...he used to call Lyn 'sparkingplug'
Trallwyn Cottages....a little more...
On the right Lyn with a neighbour of Jack's...

More recollections...

The Knook...Also Jack used to give Lyn an old threepence to spend at the Nook a little shop...in Mynachlogddu...

The Mill ...There used to be a milll down by the Church and I remember Roland telling me how his family would take the fleeces from the sheep down to the mill...and a few months later bring back shirts and caps and other clothing...so different today!

Jack the Bailiff... I remember hearing how difficult it sometimes was for Jack as a Bailiff when occasionally it was friends of his who were involved in sheep rustling...and it put him in an awkward position...

Garden...There was a flourishing vegetable garden on the right and back from the farmhouse and a lean to on the side where Margaret churned the butter...

Trallwyn Bach - Jack used to back his horse into Trallwyn Bach and so many years ago it was once a stable for Jacks horse...Lyn was able to ride Jacks horse and remembers being taken to visit a neighbour which could have been the man in this photo...
| | | |
| --- | --- | --- |
| | | |
Above two great photos of Jack - he not only worked the land but did a bread delivery with his pony and trap...
Parish records and H.P. Goode survey Haverfordwest of 1896
for Trallwyn Uchaf - As far as the census go back it is always noted as a farm labourer's home...until Jack lived in it...who was the baillif...
The rent for it in 1896 was £1 - 3 shillings and sixpence per year!
The landowner was Thomas Adams descendents of Park Ifa, Par Canol etc (170 -171 house and Cowshed 172 + 173 made up of arable and pasture
Occuper: Daniel Adams
In 1825 Benjamin James married Martha Griffiths on 26th April 1825
In 1828 William Adam died aged 5 months
In 1832 Daniel Adam mariied Mary Own on 1st June 1832 solemnised by their mark a X
1838 It also says that Mary Morris of the poor house died aged 15 on 17th October 1838
Some photos I found in a sale...haymaking...
In August everyone used to help their neighbours to bring in the hay...the tractor would go from farm to farm and cut the hay in ever decreasing circles...finally leaving in it's centre a large number of rabbits which some escaped but many ended up in the pot!
Then all the hay was gathered loose and taken on an open haycart...to be stored in a hayrick which had a kind of thatched exterior to allow the rains to fall away but the hay was loose inside...People met up during haymaking and also at chapel...which was frequented by the majority...
and more...Maenchlochog Congregation...and tractor...
Below...The More recent past...
The Farmhouse when Anna arrived in 1989 and the land before she got her hands
on it and planted a garden....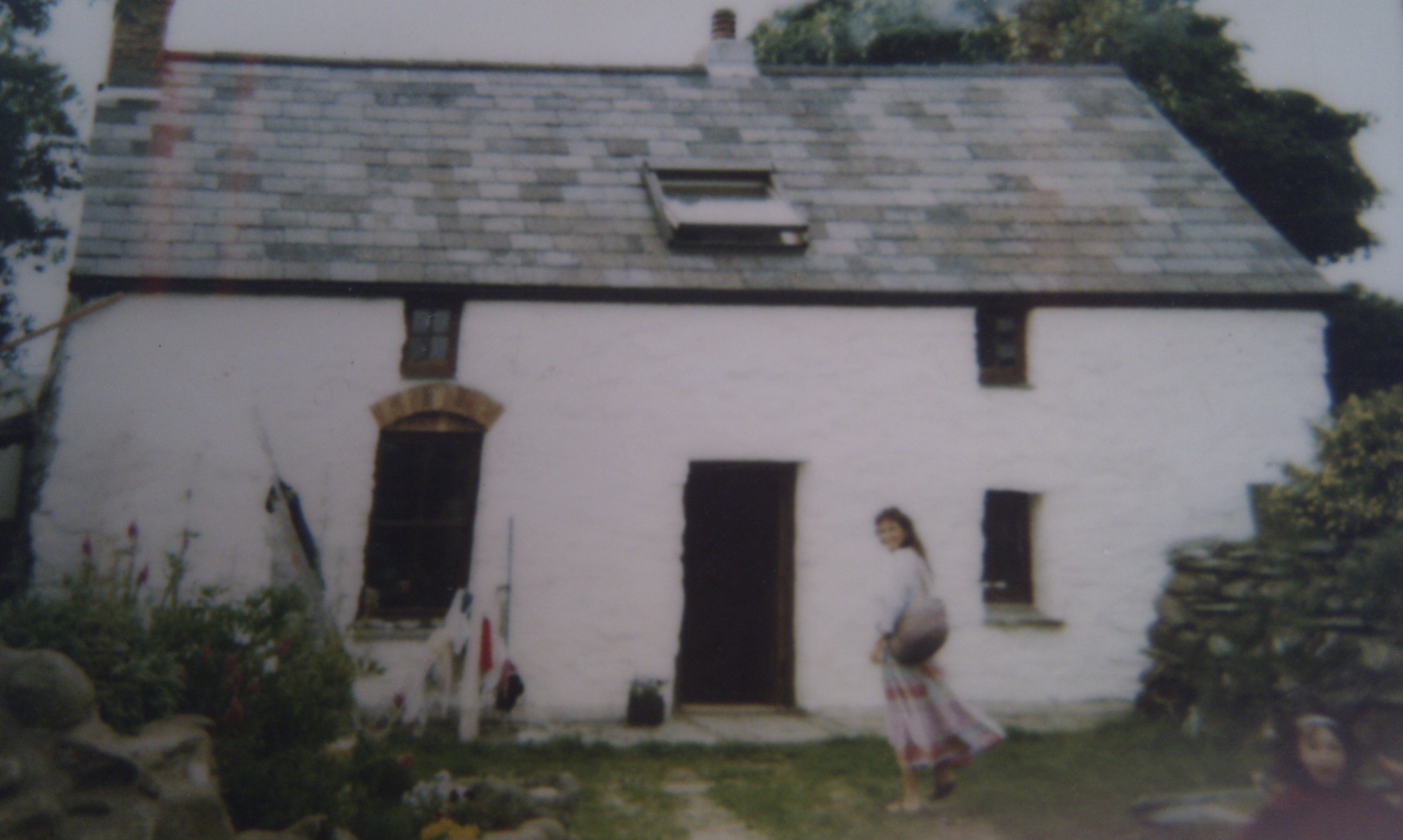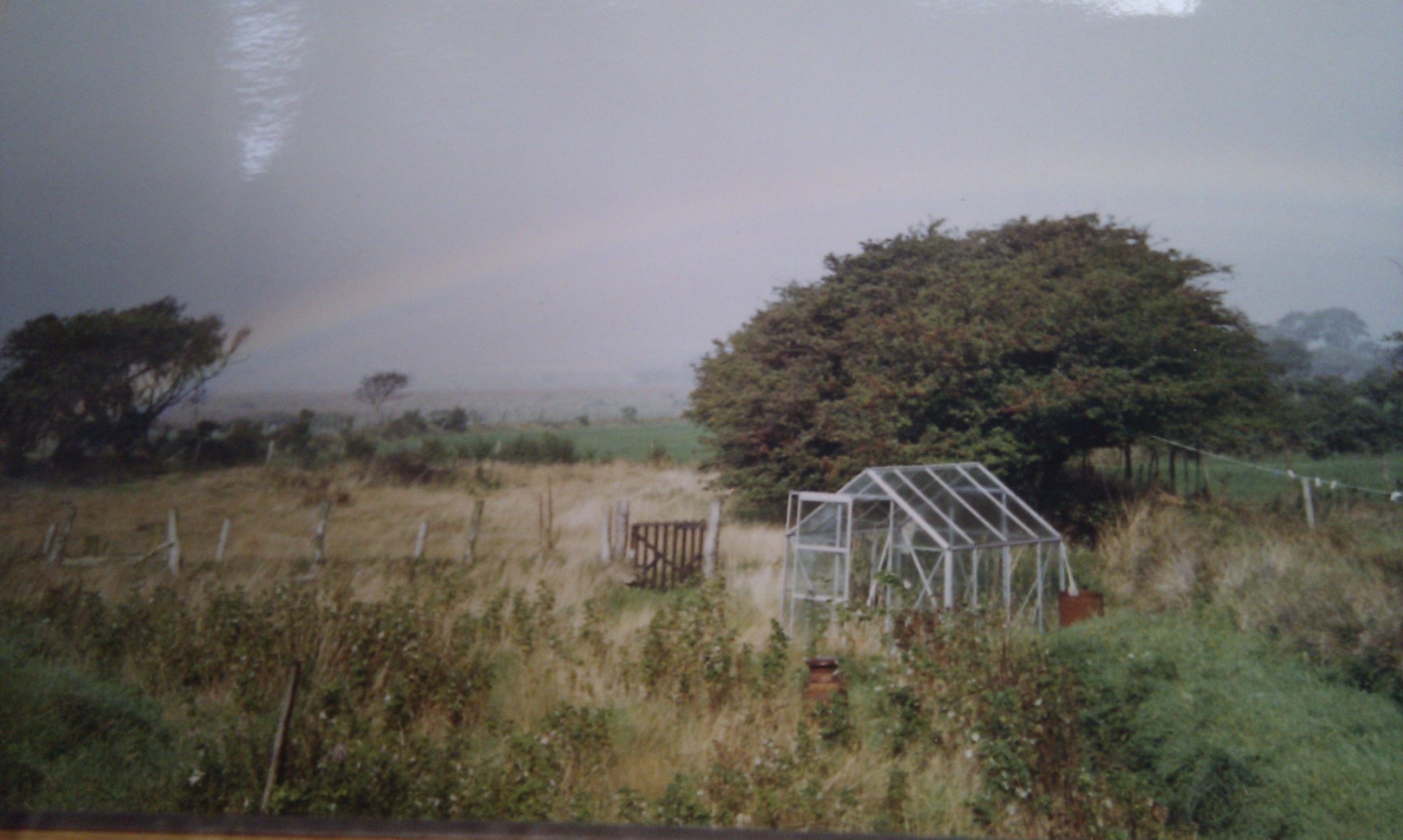 More to follow....
If you have any other snippets or photos from the past...I would love to hear from you...Contact Anna 01994 419278 or email: trallwyn@clara.co.uk