Ashera Pottery

Pottery Workshops

| | | | | | |
| --- | --- | --- | --- | --- | --- |
| | | Sales area | Pottery Tuition | | |


Situated in Pembrokesire National Park - Wales ... Ashera Pottery and Trallwyn Holiday Cottages ... were established in the 90's by Anna Kavanagh ... artist and teacher ... Anna offers pottery tuition to guests staying in her cottages + yurt + also to local people and small groups... An idyllic setting in the foothills of the Preseli Mountains...in which to relax and unwind and get into the creative flow...
for more information call or email Anna Kavanagh 01994 419 278 E.Mail

POTTERY TUITION
......Creative Expression......
......Sculpture.....
.....Handbuilding......
......Throwing on the wheel.....
.......Both for the beginner and the experienced.......
.......For adults and children......
.......Time to play......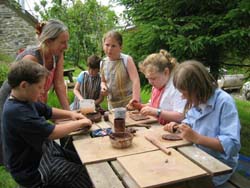 More photos of throwing on the wheel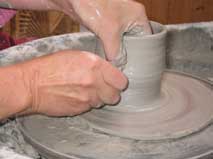 COSTS: £8 an hour per person (hand building and decorating)
£28 an hour per person (throwing on the wheel)
£8.00 per kilo weight all fully glazed pots
£4 per kilo weight all unglazed terracotta work.
£6 per kiloweight for stoneware unglazed work
£4 per kilo for raw clay pots unfired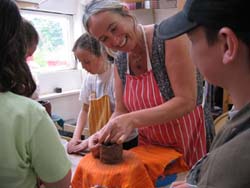 DAILY RATE £55/£85 a day per person, to include one of the following options:
1. Three hours of hand building tuition...+ use of the workshop in the afternoon... or
2. 1 1/2 hours tuition on the wheel + use of the workshop in the afternoon
A Pottery Day consists of a morning 10am-1pm + an afternoon 2pm-5pm
MAKING: On average most adults spend 2 to 3 hours and most children 1 to 2 hours.
GLAZING AND DECORATING: Average time, half an hour to 2 hours.
Below finishing pots in the sun + pots drying in the sun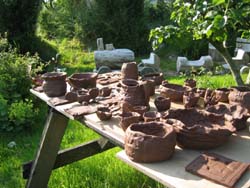 TIME TABLE: If you're on holiday for one week the making session willl usually take place on Sunday or Monday. Only bone dry work can be fired. Then on Wednesday or Thursday all work is glazed and decorated and fired again ready to take home at the end of the week.
If you're here for 2 weeks or a residential pottery course times are more flexible...
If you are here for a shorter time it is still possble to make some pots and you can do part of the process and take them home with you or book a weekend to come back to do your glazing...just have a chat with Anna about the possibilities...
INDIVIDUAL NEEDS: If you wish to spend more time in the pottery ring and discuss your requirements with Anna...
INDIVIDUAL TEACHING: Anna teaches on a one to one basis for those who want to learn the technique of throwing on the wheel in a short space of time...
RESIDENTIAL WEEKS: Available at certain times of year for individuals and small groups. Vegetarian food/cottage accommodation £675 per week. For more information on Residential Workshops If a Residential Workshop is not available for the dates you require, discuss your needs with Anna...it may be possible to organise a week to suit you...or alternatively to rent a cottage and book the tuition separately.
TIME TABLE: If you're on holiday for one week the making session must take place on Sunday or Monday. Only bone dry work can be fired. Thursday all work is glazed and decorated and fired again ready to take home on Saturday morning.
To see more pottery tuiton photos click here
June pictured above (88) recently fulfilled a lifetime dream to learn to throw on the wheel...
A surprise treat by her grand daughter! To book her in for a pottery session with Anna...
It was a real success she produced some great pots!
GROUP TEACHING: Anna Teaches groups of children and adults and often Family groups...she also specialises in Special Needs groups or individuals...
Anna Kavanagh
Anna moved to Pembrokeshire in the late '80's and has gradually created a number of beautiful places to stay. She trained originally in Bristol to teach nursery/infants and special needs children specialising in ceramics. Part of the motivation behind moving to the area was to enable her children to go to the local Steiner School, Nant-y-Cwm which is about four miles away.
Ashera Pottery opened in '95. It is here that Anna works...inspired by the natural world and landscape around her...to paint...to pot...to build...Each year she does more teaching...there seems to be a real need for people to get in touch with their creative side...and for children and whole familes to spend time together...making things...she enjoys passing on her skills...working with small groups and when weather permits outside...
For Anna one of the main delights of living here is the wonderful view with everchanging colours.
"One of my favourite treats is to watch the sun setting beyond the moor and the new Moon rising."
Music round a fire out on the moor...with the backdrop of the hills on a warm evening...as the sun goes down with friends playing guitars and singing is another of Anna's favourite things to do...
As well as enjoying the immediate and magical surroundings of Trallwyn Anna loves the coves and beaches which are abundant in this part of the world. In 2002 Anna bought an old village house in Polopos Village Southern Spain...which she thinks of as a perfect compliment to Wales...She now spends some of the cooler months in a warmer climate...Pottery teaching is usually available in the months when Anna is in Wales which includes most of the high Summer season...
Picture Gallery

of Anna's

Pastels and Paintings.

Click here

Photo Gallery

Pots and Sculptures +

of Ponies on the moor
Farmhouse,
Cowshed,
Cottage for 3,
Local Photos
,
Booking Conditions,
Booking Forms,
Prices,
Links to other sites
E.Mail
Back to Anna's Home Page